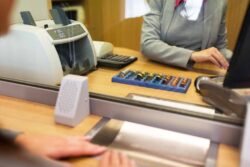 Banks & Financial Institution Cleaning Services in Utah
Invest In The Cleaning Experts For Returns You Can See
Protect your employees and guests from the spread of germs and bacteria in your facility with our bank and financial cleaning services. H&C Cleaning Solutions specializes in cleaning and disinfecting these types of facilities and understands that they have unique needs and require special attention. Our expert bank cleaning team has industry-specific experience and will target hotspots to minimize the chances of cross-contamination in your financial institution. A clean, safe and healthy environment is essential for all.
OUR BANK CLEANING SERVICES, YOUR SCHEDULE
Our cleaning professionals will tour your facility and discuss your unique requirements and then customize a cleaning plan that perfectly accommodates your needs. We can work around your business hours to avoid disrupting your clients, and we'll schedule our services at a frequency that you prefer. Daily, weekly, monthly – we are here for you whenever you need us.
a multi-floor shopping center, we can customize our services to fit exactly what you're looking for.
FULLY LICENSED AND INSURED
We are fully licensed and insured.  Whether one-time cleanup or recurring commercial cleaning services,we'll be glad to lend our professional help anywhere in Utah.
QUALITY SERVICE
H&C Cleaning Solutions is a quality-focused company. Every team member is committed to providing your organization with the best in commercial cleaning services, setting the bar high is necessary.
COMPLETE AVAILABILITY
Consistently approachable and responsive, so customers never feel ignored. We take pride in giving our customers a super quick response and on the same day, we can do everything to meet whatever deadline you have.
SATISFACTION GUARANTEE
If you're not happy with your cleaning, contact us and we will send a cleaner out at no cost, 100% Satisfaction guaranteed.