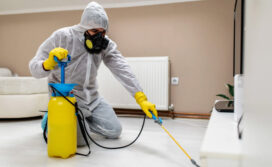 Sanitation Services in Utah.
As businesses are reopening across Utah County, keeping customers and employees safe in the wake of COVID-19 is our number one mission. That's why H&C Cleaning Solutions is helping Utah. businesses across industries maintain a safe work environment by providing facilities with intensive sanitation and disinfecting services. To do our part in keeping you safe, we're offering more than simple sanitation services — we're providing our community with full disinfecting services to help slow the spread of COVID-19 and other viral illnesses.
Due to the increased demand for comprehensive cleaning and disinfecting services, H&C Cleaning Solutions is now meeting this need by offering commercial sanitation services in Utah that involve special hospital-grade disinfecting techniques approved by the EPA. Our team of highly trained professionals disinfects offices, retail spaces, wellness facilities, educational centers and other Utah facilities to keep employees and visitors healthy during reopening and afterward.
When it comes to your health and safety, nobody has your back like H&C Cleaning Solutions.
OUR SANITATION SERVICES.
Gloves and masks will only go so far in protecting the masses from the spread of COVID-19 and other viral and bacterial diseases. If you manage a commercial workplace, you need to be proactive in your efforts to keep employees, customers and visitors safe in your facilities — and H&C Cleaning Solutions is here to help you do just that.
We offer more than traditional sanitation services for Utah businesses. Our dedicated team of commercial sanitation experts provides full disinfecting services, which provide the following major benefits:
-We use hospital-grade and EPA-, USDA-, FDA-, NSF- and CA-registered cleaning supplies that kill over 600 forms of viruses, bacteria and molds.
-All of the products we use are 100% non-toxic, non-corrosive and safe for human contact and water systems.
-Our disinfectant products kill 99.9999% of pathogens.
-We're experienced in handling biohazard situations and virus outbreaks.
We've developed a special two-stage preventative cleaning process that involves disinfecting all horizontal and high-touch surfaces, such as:
Elevator and door buttons
Printers and fax machines
Any other frequently touched surfaces
We also employ a specially designed aerosol system to completely sanitize and disinfect your commercial space and shampoo the carpets in rooms, hallways and other highly trafficked places in your building.
FULLY LICENSED AND INSURED
We are fully licensed and insured.  Whether one-time cleanup or recurring commercial cleaning services,we'll be glad to lend our professional help anywhere in Utah.
QUALITY SERVICE
H&C Cleaning Solutions is a quality-focused company. Every team member is committed to providing your organization with the best in commercial cleaning services, setting the bar high is necessary.
COMPLETE AVAILABILITY
Consistently approachable and responsive, so customers never feel ignored. We take pride in giving our customers a super quick response and on the same day, we can do everything to meet whatever deadline you have.
SATISFACTION GUARANTEE
If you're not happy with your cleaning, contact us and we will send a cleaner out at no cost, 100% Satisfaction guaranteed.