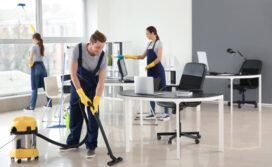 Comercial Cleaning Services
Make The Right First Impression With A Clean Office Space
Eliminate dust, dirt, unpleasant odors and more from your office building with office cleaning services from H&C Cleaning Solutions. A fresh and pristine office emphasizes professionalism and creates a healthy work atmosphere for your employees. We'll work with you to develop a customized cleaning program for your office that meets your cleaning needs.
OFFICE BUILDINGS
Whether your space is large or small, H&C Cleaning Solutions can transform your dirty office into an immaculate space that boosts employee productivity and morale. Our office cleaning specialists use industry-standard cleaning methods and products to deliver a deep clean that really shines. From lobbies, offices, open office spaces, kitchens, conference rooms and more, we clean it all.
LAW OFFICES
The office cleaning experts at H&C Cleaning Solutions have the experience and training to properly clean areas where legal documents and other sensitive materials are stored.
We schedule our work around your timetable. You will be amazed at the results! Our work covers but is not limited to
Corporate Office Cleaning
Restroom Cleaning and Supplies
Daily and Nightly Vacuuming
Corporate Office Cleaning
FULLY LICENSED AND INSURED
We are fully licensed and insured.  Whether one-time cleanup or recurring commercial cleaning services,we'll be glad to lend our professional help anywhere in Utah.
QUALITY SERVICE
H&C Cleaning Solutions is a quality-focused company. Every team member is committed to providing your organization with the best in commercial cleaning services, setting the bar high is necessary.
COMPLETE AVAILABILITY
Consistently approachable and responsive, so customers never feel ignored. We take pride in giving our customers a super quick response and on the same day, we can do everything to meet whatever deadline you have.
SATISFACTION GUARANTEE
If you're not happy with your cleaning, contact us and we will send a cleaner out at no cost, 100% Satisfaction guaranteed.