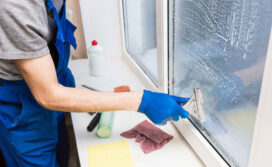 Window Cleaning
Cleaning your windows is one of the easiest ways to improve the appeal of your home or office. Dirty windows may be the first thing visitors notice. We can help you to get on a regular schedule of window cleaning so you don't have to worry about making a bad impression. If you're looking for the best Window Cleaners, you've come to the right place! We have been cleaning windows in Utah for over 10 Years.
We offer interior and exterior window cleaning services, skylight cleaning and even storm window cleaning! We work on any size building and we guarantee our work. Let us know if you are in need of quality window cleaning and we would be happy to provide a free quote.
FULLY LICENSED AND INSURED
We are fully licensed and insured.  Whether one-time cleanup or recurring commercial cleaning services,we'll be glad to lend our professional help anywhere in Utah.
QUALITY SERVICE
H&C Cleaning Solutions is a quality-focused company. Every team member is committed to providing your organization with the best in commercial cleaning services, setting the bar high is necessary.
COMPLETE AVAILABILITY
Consistently approachable and responsive, so customers never feel ignored. We take pride in giving our customers a super quick response and on the same day, we can do everything to meet whatever deadline you have.
SATISFACTION GUARANTEE
If you're not happy with your cleaning, contact us and we will send a cleaner out at no cost, 100% Satisfaction guaranteed.